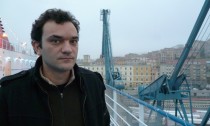 Born in 1978, Athens, Greece. I studied Sociology at the Panteion University, Athens. Then, some more Sociology at the University of Crete, Rethymnon. I am currently working as a Research Assistant at the COSMOS,  European University Institute, for the ERC-funded project Mobilizing for Democracy. I also hold a part-time lecturer position at the Lorenzo de' Medici Institute/Marist College, in Florence, Italy.
Alongside the above, I 'm about to finish my PhD thesis at the European University Institute, Florence, Italy. My supervisor is Donatella della Porta. The title of the PhD is "Precarious Workers' Unions in Greece and Italy: A comparative research on their organizational characteristics and movement repertoire". Hopefully, the outcome won't be as boring as the project's title sounds. What I 'm trying to identify and examine is models of grassroots unionism that are suitable to the precarity era.

When not living off a study grant, I worked as a call-center operator, internet technician, junior accountant, video-store clerk – and as a manager at an advertising company (that was a total failure).
For more details, please see my C.V..