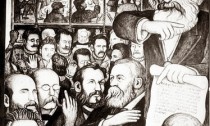 The "Labor Relations in Context" research group of the Hans-Böckler Stiftung organized a conference in Düsseldorf on developments in European trade unions' issues.
I presented there the following paper:
Title: "Trade Unions in Greece: Protest and Social Movements in the Context of Austerity Politics".
Abstract: On the eve of the 2008 financial crisis, the Greek trade union system was already characterized by low density and weak links with other societal actors. The unsuccessful trade union response to the austerity policies imposed on the country in the period 2010-2013 reflected the extent of the institutional labor organizations' weakness. This article provides some insights on the changes the workers' movement is undergoing in this extremely challenging environment.
The focus is ...
Read More