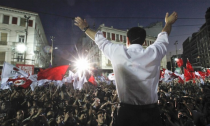 This Q&A is an attempt to respond to questions raised by non-Greek friends on the outcome of the 2015 elections.
Why did SYRIZA go into an alliance with populist right-wing ANEL?
There was no other option. Or, better put, the other options were even worse. Given that Tsipras had dismissed a potential alliance with formerly governing New Democracy (ND) and PASOK, and given that the communist KKE had ruled out offering any sort of support to a left-wing government, the two parties left to choose from were:
– ANEL (Independent Greeks), a right-wing populist party, fiercely anti-troika but completely unreliable, apart from the fact that they are truly fucking right-wing in socio-political issues
– and POTAMI ("the River"), a post-politics, neo-liberal, pseudo-party financed by media giants, ...
Read More