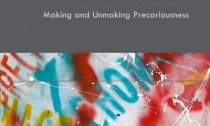 A collective tome on precarious labor has just been published:
The New Social Division: Making and Unmaking Precariousness.
The book has been edited by Donatella della Porta, Sakari Hänninen, Martti Siisiäinen and Tiina Silvasti.
It includes a chapter I wrote, entitled Varieties of precarious workers' unionism: Greece and Italy compared.
Here's the book's abstract – the full text of my contribution will be soon available on my Academia.edu webpage:
This volume addresses issues of precariousness in a broad perspective, examining socio-economic transformations as well as the identity formation and political organizing of precarious people...
Read More